Get Started

– it's fast & easy to engage with us
A third party is a great way to achieve your business objectives without increasing your internal overhead. But it's essential to work with a partner you can trust and in a way that fits your needs.
95% of our clients return with new projects
FlairsTech excels at building long-term partnerships with customers worldwide to deliver solutions, extend their internal capabilities and skills, improve processes and outcomes, increase productivity and, ultimately, boost profitability. We support over 2500+ organizations worldwide – and 95% of our clients come back to us with new projects.
800+ employees, 3 countries & 5 offices
Working from our five offices in Egypt, Canada, and Poland, our team works cohesively to deliver the most efficient output. We exceed your expectations because we dedicate a team of professionally trained employees specifically to your project. Working side by side encourages those unique synergies that drive excellence.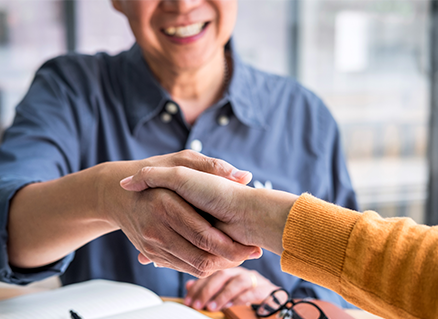 Flexible, scalable,
project or resource-based

services
Take advantage of readily available, committed, and talented professionals for all your software development, technology solutions, and support needs. We help you deliver on your business objectives with responsive and adaptable models built on our core values of Innovation, Talent, and Excellence.
Our risk-free and straightforward engagement models enable you to streamline your business processes and extend your in-house capabilities with ease, flexibility and rapidity:
Project-based services
Enlist the services of a fully committed team, comprising all the talent you need, and headed by a delivery manager (DM), to transform your idea into reality. Our proven methodologies and processes, and the high level of ownership we maintain, combine to ensure the success of your project.
Resource-based services
Hire pre-screened, trained, fully dedicated, and qualified professionals to work alongside your in-house team. Our experienced project managers (PM) help you select and integrate the right talent for your teams, to help you develop your software, speed up time to market, and deliver on your brand promise. Staff augmentation clearly has many advantages as a strategic means to meet your business objectives.
Have another model in mind?
Talk to us! We never shy away from new ideas.
Contact Us now to determine which engagement model is best suited to your needs.

Request a call
Set a meeting with one of our technical leads or project managers to assess your needs, share your challenges and discuss possible approaches.
Schedule Now
Three phases to
ensure your success
We have developed a simple three-step model for all our services that helps us deliver excellence and meet your business objectives: Assess, Deliver, Optimize.
Assess your needs
We analyze your requirements and current challenges.
We look at your current structure and key objectives.
We provide you with a comprehensive overview of your business, your needs, and your markets.
Deliver the services and solutions
We define the scope of the project or solution to be delivered and/or the levels of service to be provided, as well as any related requirements to enable a digital transformation and solve your business challenges.
We bring together the right people with the knowledge, expertise, and skillsets to provide the service or solution.
We get to work to provide a working solution while managing the risks.
Optimize constantly
We monitor and evaluate performance regularly to achieve optimal output and track improvements when required.
We refine our methodologies, processes, and procedures.
We keep up to date with evolving technologies and best practices.