Today's world is moving at a rapid pace; new technologies are changing our lives daily. Digital transformation is more than just a buzzword – it's indispensable. To avoid falling behind, you must analyze your competitive edge constantly. Are your competitors offering more secure and user-friendly applications? Are they up to date with the latest technology requirements and providing stronger results?  Asking yourself these questions will keep you ahead of the game, consider market trends and business dynamics, as well as make sure you are continually meeting your customers' expectations. If your current systems lack security, flexibility, are not cost-effective, and cannot meet customer demands, you only have two options. You can either work on your legacy software modernization plan or build new software from scratch. We'll compare both choices, so you can evaluate what suits your business needs best.
But first, let's start with the basics.
What is 
Legacy S
ystem
 Modernization
?
'Legacy software' is outdated software that fulfills a business need or performs a task. Still, it certainly has drawbacks as the technology it is built on is minimally or not supported and cannot keep up with new market trends. Modernizing or replacing these systems using modern programming languages, protocols, or software libraries is called Legacy Software Modernization.  
W
hy 
D
o 
C
ompanies 
C
ontinue to 
U
se 
L
egacy 
S
oftware?
People tend to stick with what is familiar to them, even if it means working with outdated technologies. Or maybe because their programmers don't have the skills and knowledge to work with modern technologies. However, as business requirements become more complex, the demand for current, more efficient technologies increases; this is where software modernization comes in. 
Data
 Protection
, 
Cost
s
,
 and Cybersecurity Risks
Decision-makers might worry about losing some of their data during the process of modernizing their legacy software. Others worry about the cost. While, in fact, maintaining legacy software can cost more money than replacing it. A report by the US Government Accountability Office (GOA) specified that the US Federal Government dedicated over $90 billion to the IT department in 2019. Around 80% of this budget was used to operate and maintain critical legacy software. Most of those systems were a high cybersecurity risk. 
In another example, retail companies spend 58% of their IT budget to maintain their legacy systems. 69% of companies are hesitant about legacy software modernization because they are afraid of cybersecurity problems. However, it is a crucial step for retail management technology to keep their information synced. There is no doubt that software modernization requires investment, but it is inevitable. If you think about it, instead of spending your budget on maintaining an outdated system, you could spend it on improving your business. 
The 
Status
 quo is 
N
o 
L
onger an 
O
ption
Maintaining legacy software requires a considerable investment when it comes to budget and staffing. For a start, finding qualified resources to maintain your software is a challenging task. Not many developers use the programming language suitable for your legacy software like FORTRAN or COBOL. Additionally, legacy software is difficult to integrate with new systems, given its technology, design, and architecture. All of this puts your system at risk of crashing at some point and makes it vulnerable to cyberattacks.
Moreover, companies that still use legacy software are less likely to live up to their business's full potential.  According to a Gartner survey, 45% of participants who are well aware of their business's software strategy stated that app modernization is one of their top IT priorities. 41% of other participants specified that "extending capabilities of core enterprise applications" is a top priority. 
For some companies, it is better to replace legacy software than modernize it. Either way, sticking with your legacy software is not an option if you want to stay competitive and grow in today's business world. But how do you decide whether modernizing your legacy software or building a new system from scratch is better for your business?  
Legacy 
Software Modernization versus Building from Scratch
First
, Assess Your Situation
Each approach has its pros and cons, depending on your current state and position. The best way to know which approach is suitable for you is by identifying your business needs, objectives, challenges, and thoroughly assessing your current system's capabilities and issues. With this comprehensive understanding, you'll know to what extent these systems can help you move forward or if you need to replace them entirely. 
Once you know where you stand, you'll have better insight into the scope of the project, including the development, implementation, and maintenance required. The next step is to study the pros and cons of building on top of your legacy software versus developing a new system to identify which would better suit your business objectives.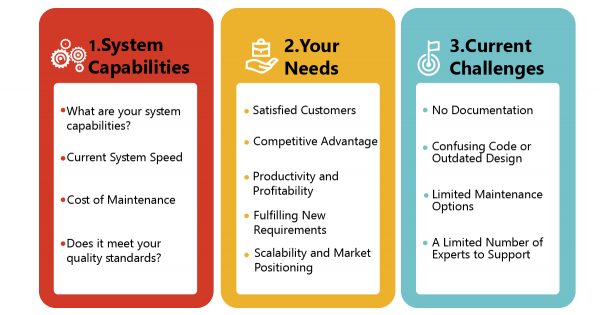 Then, Consider These 4 Key Aspects
Implementation
Building on top of your legacy software is easy and convenient if slight changes are required. For example, it minimizes the risk of losing data or experiencing a business disruption in the short term. The development time is quick, which guarantees a fast go-to-market (GTM). 
However, the more outdated the design or programming language, the more difficult it is to support its integration with other business-critical apps like mobile devices. They may lack the built-in integration capability, such as APIs, to connect to a third party. To overcome this issue, the legacy software requires much customization and coding effort. This is in direct contrast to nearly all modern technologies that easily connect to third-party apps. 
Maintenance
Maintaining modernized legacy software can be a bit tricky. It is much easier to maintain your systems if they use well-known modern development languages. But most legacy systems use outdated programming languages. Furthermore, it might be challenging to find skilled software developers with deep experience in those old languages to maintain your modernized legacy systems.  
Usability
It is crucial to consider long-term productivity gains and profitability. Providing your employees and customers with easy-to-use and secure apps is a competitive advantage you cannot ignore. Examine your legacy software, check to what extent the design is outdated or how your customers rated their experience with it recently. Also consider software that your suppliers, vendors, partners work with that impacts your collaboration, relationships, and ultimately your bottom line. Then decide which would make your clients, vendors, and partners happier: building on top of it or providing a new platform meeting UX and performance standards. 
Cost
Though software legacy modernization might be cheaper than adopting an entirely new system, this remains a short-term success. When considering your market position, constantly assess the productivity gains, security protection, and added value you achieve in the long term. Agile and innovative platforms pave your way to scale in the near future. The more you stay efficient, create competitive advantages, and meet your customers' expectations, the more you maintain your market position and increase your long-term profitability. 
Going for legacy app modernization or building a new application from scratch, the choice is yours. There is no doubt that this step is vital for maintaining and optimizing your business. Although it might seem like a huge task, it will not be if you pick the right team. And this is the final step in taking a confident decision and setting a solid strategy. An experienced team can help you develop the right plan that suits your budget and business objectives. 
Let us help you determine the best approach and build a business case. Talk to one of our experts at services@flairstech.com.
Written by: 
Sarah Marzouk | Senior Copywriter | LinkedIn 
Rabab Farid | Senior Technical Writer | LinkedIn
For more information, contact:  
Waleed Abdelhameed | Software Development and Analytics Director | LinkedIn
Islam Kamel | Marketing Manager | LinkedIn