IT staff augmentation is an effective way to fill existing gaps or cracks in your company's IT department and support your technology needs. It is cost-effective, flexible, and allows you to bring in specialized talents and expertise when needed. When choosing an IT staff augmentation provider, you'll need to look for the following attributes to minimize risks and make a strategically informed decision: Experience, Quality Professionalism, Flexibility, Good Communication, and Company Size. In this blog, we'll discuss the green flags that make up a good IT service provider, giving you some industry insights and clarity about the entire IT staff Augmentation process. Because with the right IT staffing partner, you can build a solid and agile IT department that supports your company's goals and objectives.
What is IT Staff Augmentation?
IT staff augmentation is the process of hiring temporary or long-term IT professionals to fill gaps in your company's IT department. These professionals are usually hired on a contract basis and work alongside your existing IT team to support your company's technology needs. IT staff augmentation can be used for a variety of purposes, including:
Filling short-term staffing needs
Supporting new projects or initiatives
Providing specialized skills or expertise
Cutting costs through offshore IT Staff Augmentation services
Covering for employees who are on leave or vacation
How Does IT Staff Augmentation Work?
IT staff augmentation works by partnering with IT service providers/ development firms that specialize in providing temporary and long-term IT professionals. Your service provider should work closely with you to identify your company's specific IT needs and requirements, then develop a creative strategy to find the right professionals to fulfill these needs.
Once the IT professionals are identified, they will be integrated into your company's IT department and work alongside your existing team under your company's direction and be held to your company's standards and expectations. However, their entire recruitment process as well as their payrolls and anything human resources related, shall be managed by your service provider.
What Are the Benefits of IT Staff Augmentation?
There are many benefits to deploying the IT staff augmentation model for your company's IT needs, and the following are some of the lowest-hanging fruits that you can reap as soon as you start your journey toward outsourcing IT professionals: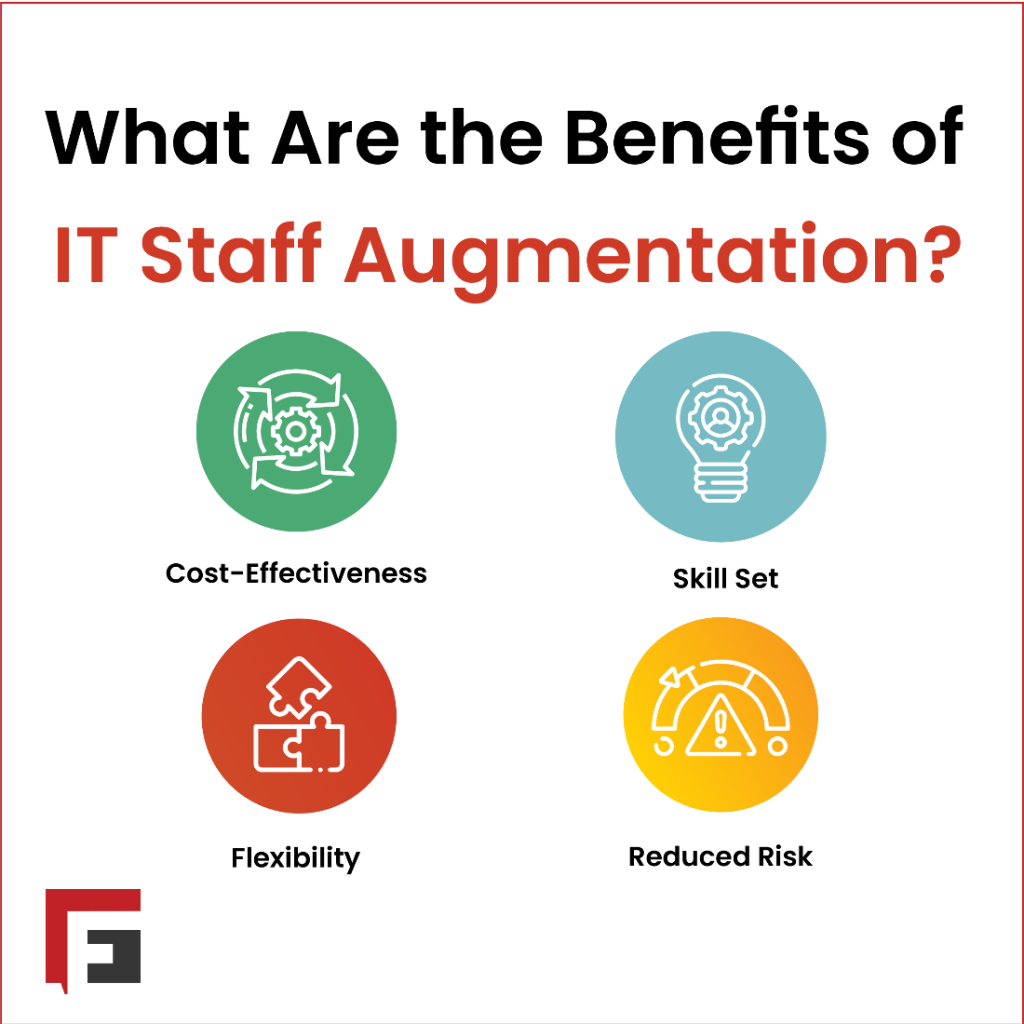 Cost-Effective
One of the most lucrative benefits of IT staff augmentation is that it is often more cost-effective than hiring full-time IT employees. With IT staff augmentation, you only pay for the services you need when you need them. Hence, saving your company money on hiring, salary, benefits, and training costs. Additionally, you need not worry about economic turbulence, as scaling up or down between resources is always an added benefit of this model.
Flexibility
IT staff augmentation should also give you extreme flexibility. For example, you can hire IT professionals for a short-term project or for an extended period of time. Thus, allowing you to scale your IT department up or down as needed, depending on your company's needs at a given point in time.
Specialized Skills and Expertise
IT staff augmentation also allows you to bring in a wide variety of specialized skills and expertise that your existing IT team may need to gain. This can be especially valuable for new projects or initiatives that require specific technical knowledge unavailable within your IT department.
Reduced Risk
Another benefit of IT staff augmentation is reducing your company's risk. When you hire IT professionals on a contract basis, you are not responsible for their benefits or training. This means that if a project ends early or you no longer need their services, you can easily terminate the contract without incurring additional costs. Moreover, you are also provided with the luxury of talent handpicking. If a specific outsourced talent is underperforming or not meeting the designated requirements, you can simply ask for a more suitable replacement that fits your criteria better.
How to Choose an IT Staff Augmentation Provider
When choosing an IT staff augmentation provider, there are 4 factors to consider: 
1- Asses Experience and Time in the Market 
Look for an IT service provider that has experience working with companies in your industry. They should have a deep understanding of your company's IT needs and be able to provide the right professionals to meet those needs. Through this filter, you can choose the company based on their market experience, product knowledge, average deal size, or companies they are used to working with (enterprise, startups, mid-range, etc.…)
2- Evaluate the Quality of Professionals 
The development firm should have a rigorous screening process to ensure that they are providing high-quality IT professionals. Look for a company that conducts thorough background checks, technical assessments, and reference checks to ensure that the talent you are acquiring is top-notch!
3- Communication 
Effective communication is integral for successful outsourcing in IT, as it helps ensure that both parties are aligned and working towards the same goals. Without clear and open communication, outsourcing can quickly become difficult and unproductive. Look for an IT service provider that is responsive, accessible, and provides regular updates on the progress of their IT professionals. Additionally, make sure that the provider has resources that speak your language fluently and can manage an open line of dialogue during every part of the process.
4- Service Provider's Company Size:  
If you're looking for a long-term technological investment to significantly and impactfully rejuvenate your software efforts, you'll need to make sure that the firm or company you're working with has the necessary size and talent variety to do so. In coding language, size does matter, and it matters a great deal because you don't want to be partnering with a small or middle-tier provider based in another country and not trust them to scale according to your needs hence affecting your productivity levels and impacting your time to market.
How Flairstech Can Help with Your IT Staff- Augmentation Process!
IT staff augmentation is an effective way to fill gaps in your company's IT department and support your technology needs. It is cost-effective, flexible, and allows you to bring in specialized skills and expertise when needed. And we truly understand how hectic and agitating the process of choosing between vendors may be due to the cost and magnitude of the investment. With that being said, regardless of which IT outsourcing model you're going to opt for, we would like to reassure you that with Flairstech, you are in the safest of hands because of the following:
We have over 1,200 available talents delivering top-notch results from three continents (North America, Europe, and Africa) covering every language and time zone on the planet.
Over 100 global enterprises rely on our services on a day-to-day basis.
Our size, however, does not affect our agile processes, as we have fast and exceptionally efficient processes when it comes to hiring and time-to-market.
We guarantee the products we deliver for life.
We will cut your development budgets in half, increase your overall output, and over-achieve the desired results.
Nevertheless, at Flairstech, we came up with the ideal agile process to enable companies wishing to outsource either part of or their entire software life cycle. Moreover, if you need any assistance deciding on a digital solution that will elevate your business or have any questions regarding the development ecosystem in general, schedule a free one-on-one consultation now, and one of our engineering managers will gladly assist you.
FAQ'S 
What Types of IT Roles Can Be Filled Through Staff Augmentation?
Staff aug can be used to fill a wide variety of IT roles, from entry-level positions to senior leadership roles. Some common examples include developers, project managers, business analysts, quality assurance testers, and data analysts. 
How Does Staff Augmentation Differ from Traditional IT Staffing?
Traditional IT staffing typically involves hiring employees directly, either as full-time or contract workers. Staff augmentation, on the other hand, involves partnering with a third-party firm that provides IT professionals on a temporary, long, or project basis.
How Long Does the Staff Augmentation Process Typically Take? 
The timeline for staff augmentation can vary depending on the specific needs of the organization and the availability of qualified IT professionals. However, we at Flairstech, are able to provide qualified candidates within a matter of weeks or even days.
How Can Organizations Maximize Productivity Levels and Engagement of the Outsourced Staff?
To ensure a successful staff augmentation engagement, it is important to clearly define project requirements and expectations, establish open communication channels between the organization and the staff augmentation firm, and provide sufficient onboarding and training for staff augmentation team members.