Update and utilize your apps to easily
manage your operations and increase revenue
Improve your business and keep up with technology trends with our comprehensive App Services

Modernize your legacy application
Update your legacy application with the latest software languages and technology trends. At FlairsTech, we have certified and language-agnostic experts who have a portfolio of successfully completed projects in various industries.

Maintain & update your application
Maintain your app, detect bugs, and introduce the latest features while sticking to your budget and timeline. We have flexible app maintenance and support packages to suit your budget and business needs without compromising quality.

Integrate your app with 1st & 3rd-party apps
Easily communicate with other applications inside and outside your company. We offer flexible engagement models and scale our teams up and down according to your project requirements to ensure a consistent and robust integration with zero downtime.

Migrate your app to the cloud
Leverage the latest technologies and move your desktop app to the cloud. FlairsTech team of expert developers and business analysts help you safely migrate your app to the cloud of your choice with zero downtime.
Speak to one of our experts now
We have a proven track record working with both B2B and B2C companies, providing dedicated delivery managers to ensure high satisfaction.
Contact Us
Leverage the latest technologies and
enhance your brand reputation
Save time & money
Legacy software is more prone to breaking, which takes more time, money, and resources to fix and maintain. Modernizing your application eliminates all these problems and helps you stay updated.
Boost business agility
Improve digital performance and increase business agility by modernizing your legacy application, which speeds up your systems and makes them more flexible, reliable, and easier to scale.
Enhance workflows and employee productivity
With most of the world moving towards remote working and now focusing on intelligent data analysis, you need to modernize your apps to remain compatible with the latest trends and provide your employees with a strong user experience as well as improve their productivity.
Ensure data protection and cybersecurity
Most legacy software is prone to cybersecurity risks and data loss. Modernizing your apps ensures that all your data is synced, and your systems are safe from cyber threats.
Stay connected
Easily keep your systems connected with first and third-party applications and ensure a constant and secure flow of information between software programs inside and outside your company.
Ensure faster deployment
Satisfy your customers and stay competitive by having faster and more frequent updates.
Have more room for innovation
Detect and correct problems promptly and effectively through automated testing and give your team more room to work on innovative ideas.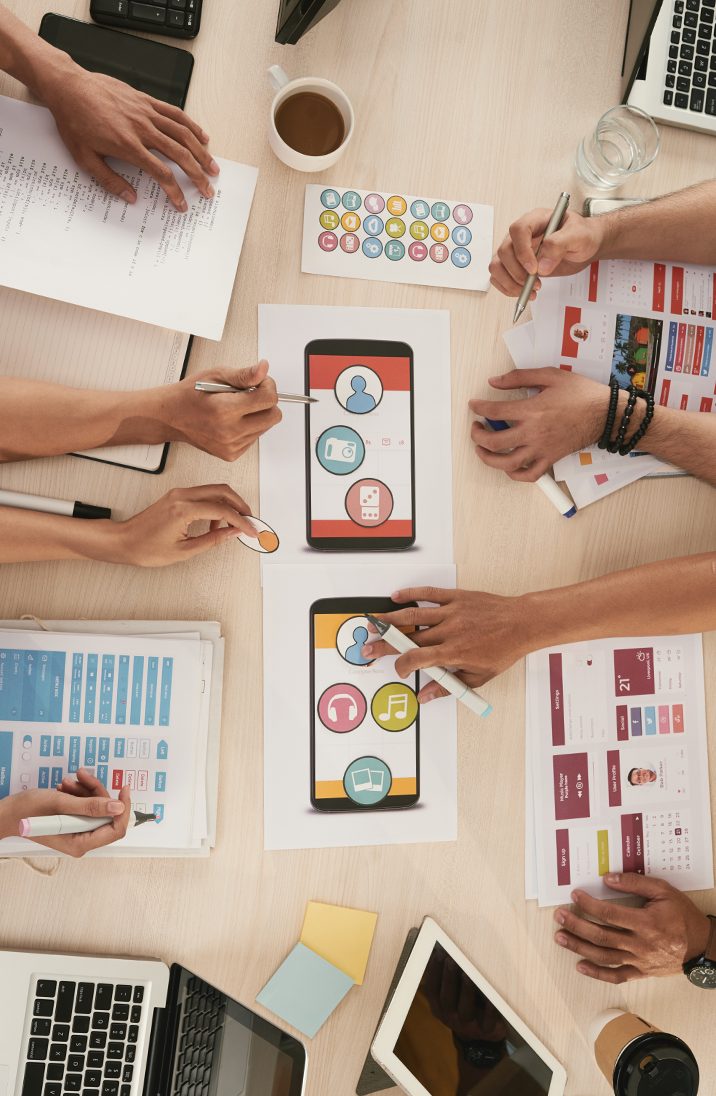 Leverage our expert developers and
ensure zero downtime
Work with language-agnostic experts
Whatever language you're porting from or to, whether a legacy language or a new one, our certified developers will handle it.
Make your software code more efficient and maintainable
Our DevOps team leverages the code refactoring approach to restructure your computer code without changing or adding to its external behavior.
Operate with zero downtime
Our team can keep your legacy application running or modernize your program with zero downtime.
Faster deployment
We scale our teams up and down according to your needs and your project's critical points. So, if you need it quicker, we can easily add more resources to meet your timeline.
Leverage an agile methodology
Our team will get the key features up and running, and we'll maintain and add new ones as they go to ensure a positive user experience while extending the life of your software.
App Store & Marketplace expertise
We can help get your app approved in any app store or marketplace, including Microsoft, Salesforce, etc.
Set a meeting with one of our technical leads or project managers to assess your needs, share your challenges and discuss possible approaches.
Schedule Now
Transform your operations and up your game Application Modernization
Our software team modernizes legacy applications to increase efficiency and incorporate them into your modern enterprise IT (Information Technology) strategy.

Containerizing
Across all modernization options, we can pack your apps or parts of your app into isolated packages at the Operating System (OS) level: • Fewer resources required to run the app • Easier scalability • Simplified movement across different environments • CI/CD (Continuous Integration/ Continuous Delivery) practices enabled

Automated Deployment
• CI/CD (Continuous Integration/ Continuous Deployment) is one of the best practices for DevOps teams to implement. This agile methodology best practice enables software development teams to focus on meeting business requirements, code quality, and security as deployment steps are automated. • A strong CI/CD strategy enables engineers to work on meaningful projects without worrying about time-consuming manual tasks. They can also work confidently, knowing that errors are caught instantaneously, and not at the 11th hour, right before deployment.

Cloud Migration
According to recent surveys, more than a third of modern companies see cloud migration as a top priority. FlairsTech offers one of the following three approaches to the cloud, depending on your business needs: • Application re-hosting • Application re-platforming • Application rearchitecting

Application re-engineering
With an extensive team familiar with legacy apps, FlairsTech helps you restore and slightly modify the code and design of your long-running enterprise applications. Application re-engineering can grant: • Web and mobile enablement • Improved look and feel • Simplified and less costly maintenance and updates • DevOps and CI/CD enablement • Increased performance and response time
Analytics Services

Data Visualization
Transform dry reports into remarkable dashboards to discover key patterns, significant trends, and compelling correlations.

Data Cleansing
Get regular data cleansing to avoid losing money. You will also understand your customers better and stay compliant with all Data Protection Acts.

Data Connectors
Bring together all your data in one interactive dashboard.
At FlairsTech, we adjust DevOps services to your needs and project specifications:
Cloud services (adoption, migration, and infrastructure)
Pipeline delivery and continuous integration
Security audit and infrastructure
Optimization and automation of the processes
Budget optimization.
Design, development, and integration of a fully automated CI/CD pipeline
Migration of legacy infrastructure to the cloud, setting up production and monitoring, as well as the implementation of multi-tenancy
Assessment of the existing DevOps processes, streamlining and standardizing CI/ CD processes, as well as help with configuration management and OS patching