Outsourcing, first introduced as a business strategy in 1989, is the process when a company hires a service provider to handle operations that the company's internal employees typically perform. This includes many services such as customer service, app & technical support, accounting, and software development.
While Business Process Outsourcing (BPO) is a great way to help your company as it progresses through its various growth stages and is likely the right decision for your business, you still need to understand its advantages and value.
Here are four ways outsourcing can take your business to the next level.
Focus on The Core Aspects of Your Business
As your business grows, it becomes more challenging to focus on the critical aspects of your operations, and some tasks will require a different skill set.
Outsourcing such tasks to external professionals that can drive the results you expect is the best way to free up time for your employees to focus on the core missions of your company, e.g., vision, values, future strategies… etc. In a Deloitte global survey, respondents were asked, "How does your organization perceive the benefits of outsourcing?" and 65% said outsourcing helped them focus on their core functions. Every second you spend on the core missions of your business plays to your company's advantage.
Reduce and Control Your Operating Costs
The Harvard Business Review states that outsourcing can save a company 20-25% of its budget, making cost reduction the main reason why 59% of companies worldwide resort to BPO. It's usually cost-efficient to outsource business processes than to hire in-house permanent employees. You save money on recruitment, office space, wrong hires, employee retention, and equipment. At the same time, your service provider takes care of employee training, medical care, and other benefits you're required to provide full-time staff.
Many companies –including 92% of the G2000– outsource their IT and software efforts to gain tight control over their cash flow, as BPO can help you plan your costs in advance.
For example, you save on all the infrastructure costs needed to build a good support team. Also, license and additional one-use charges will occur. There's no point in paying for costly software and SaaS licenses that you plan on using only once when your BPO partner possesses the required knowledge, tools, and other tech treasures.
Provide Your Customers with The High-quality Service They Expect
96% of consumers say customer service plays a crucial role in their brand choice and loyalty; however, customer support can be both time and money-consuming and distracting for your resources if handled internally.
BPO allows you to delegate customer service and support to trained customer-obsessed gurus with the required experience to represent your company with the highest standards possible. 54% of all companies use highly-skilled third-party support teams to connect with customers.
We also learned that our flexible BPO models helped our partners attract new customers while maintaining their existing ones and maximizing their lifetime value.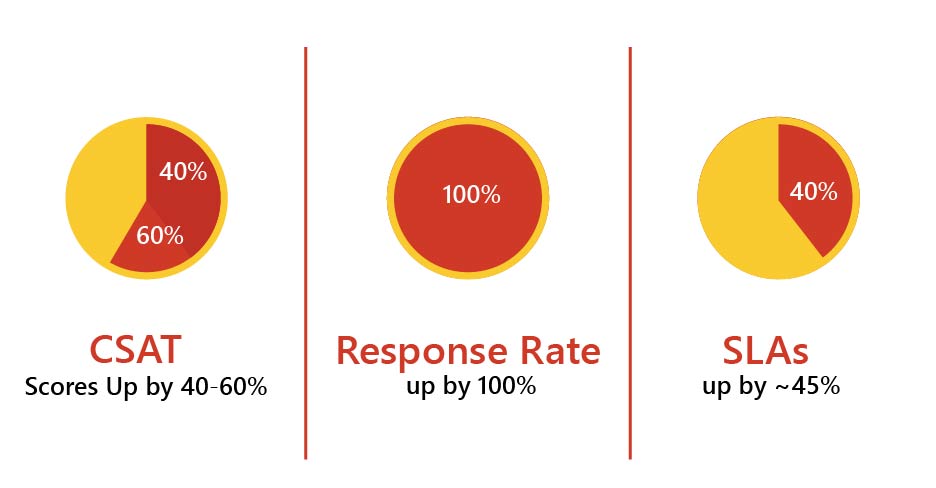 Some of the KPIs we manage to help our customers achieve at FlairsTech
Access The Top Talent or Latest Technologies That You Don't Have/ Have in a Limited Capacity
Another benefit of outsourcing is working with top talent and technologies you don't have or have in a limited capacity to expand your business, get comfortable in your market area, and access new ones.
The right BPO partner comes with a knowledgeable talent pool and edge-cutting technologies to help your company meet the day-to-day market trends. It will also allow you to take your production or service delivery to where you want it, closer to your end users.
BPO providers are experts in process. They can help you map your business processes and analyze what models best suit your company. Keeping their approach centered around your customer and business needs and making sure flexibility is present, they'll help you drive efficiency, flexibility, and higher performance.
When adequately executed, BPO can astonishingly impact a company's revenue recognition, deliver significant savings, and increase ROI.
If outsourcing is on your mind or you would like to discuss your business needs and possible approaches, our experts will gladly listen and help. Schedule a call with one of them now.
Written by:
Amr Fahmy | Senior Copywriter