In today's fast-paced and highly competitive business world, delivering an exceptional customer experience (CX) has become a critical success factor. Customers expect seamless interactions, timely resolutions, and personalized attention across various touchpoints. To meet these demands, businesses often turn to customer experience outsourcing, a strategic approach that allows them to partner with external experts to handle customer support and related services.
In this comprehensive guide, we will explain what customer experience outsourcing is and provide you with insights, strategies, and best practices for successful customer experience outsourcing.
Table of Contents:
What is Customer Experience Outsourcing?
What is Customer Experience Outsourcing?
why outsource customer experience?
Choosing the Right Customer Experience Outsourcing Partner
Key Considerations in customer Experience outsourcing
Setting up effective communication channels
Creating a Seamless Customer Experience Strategy
Training and Onboarding for Customer Support Teams
Overcoming Challenges in Customer Experience Outsourcing
​ Continuous Improvement and Optimization
Best Practices for Customer Experience Outsourcing
The Future of Customer Experience Outsourcing
Risk and mitigation strategies
What is Customer Experience (CX)?
Customer experience (CX) refers to the overall perception or impression a customer has of a brand, company, or organization based on their interactions and experiences throughout the customer journey. It encompasses every touchpoint a customer has with a business, from the first point of contact through the entire relationship.
Opting to distinguish themselves from others, many businesses significantly focus on customer experience (CX). In fact, approximately 74% of customers indicate that their purchasing decisions are heavily influenced by the quality of their experience alone, according to Forbes.
Being essential to businesses, a positive customer experience can lead to customer loyalty, repeated purchases, positive word-of-mouth recommendations, and, ultimately, business growth. Conversely, a poor customer experience can result in customer churn, negative reviews, and damage to a company's reputation. Therefore, many organizations invest significant resources in designing and delivering exceptional customer experiences.
In order to bridge gaps and better serve their customer base, numerous businesses are now looking to leverage CX BPO strategies that enable companies to tap into the expertise and resources of other Customer Experience professionals and teams. Here's a closer glimpse into what customer experience outsourcing is, why you need it, and other stuff you should be aware of.
Also Read: What is customer service BPO? Full Guide
What is Customer Experience Outsourcing?
Customer Experience Outsourcing, or CX BPO, is a strategic business practice where companies partner with external service providers to handle various aspects of their customer support and engagement processes.
These external providers are specialized in delivering customer-centric services, such as BPO customer support, technical assistance, sales support, and other related functions. The goal of customer experience outsourcing is to enhance the overall customer experience, improve customer satisfaction, and optimize operational efficiency.
Also Read: Technical Support Outsourcing Explained
Why Outsource Customer Experience?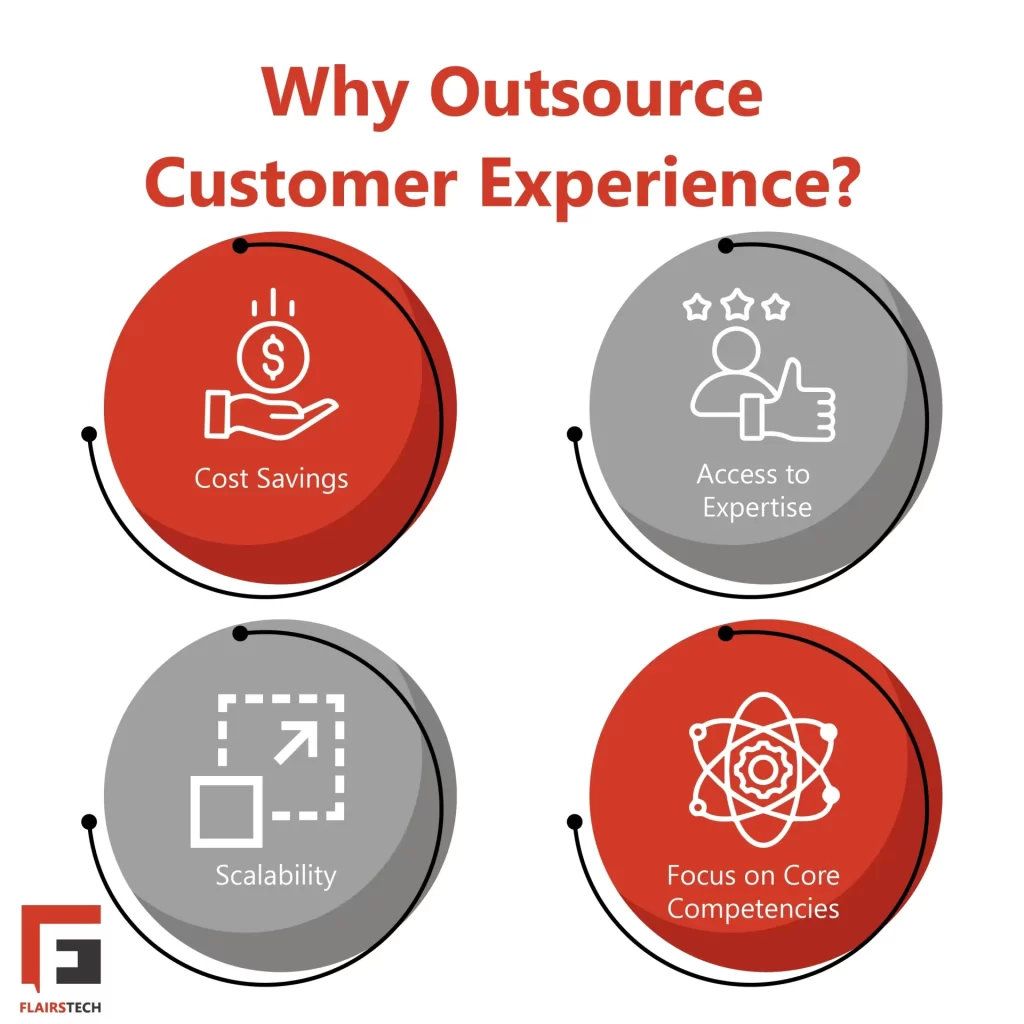 CX BPO offers numerous advantages to businesses of all sizes. First and foremost, it enables companies to focus on their core competencies and strategic initiatives, leaving customer support to specialized service providers. This allocation of responsibilities allows businesses to streamline operations and enhance overall efficiency. Additionally, the following factors further justify the benefits of customer experience outsourcing:
Cost Savings:
Outsourcing customer support can lead to significant cost savings as it eliminates the need for extensive in-house infrastructure and staffing.
Access to Expertise:
One of the benefits of customer experience outsourcing is access to specialized customer support that often possesses the knowledge, experience, and resources to handle complex customer inquiries effectively.
Scalability:
During peak seasons or sudden spikes in customer inquiries, outsourcing partners can swiftly scale up operations to meet demand.
Focus on Core Competencies:
Businesses can concentrate on their core functions, such as product development and marketing, while leaving customer support to the experts.
The worldwide customer experience outsourcing market is on the rise, and research indicates that it is projected to reach a market value of $81.5 billion by 2023. CX BPO has long been recognized as a valuable prospect for numerous companies, especially in addressing the talent shortage within the contact center sector.
You Should Know That…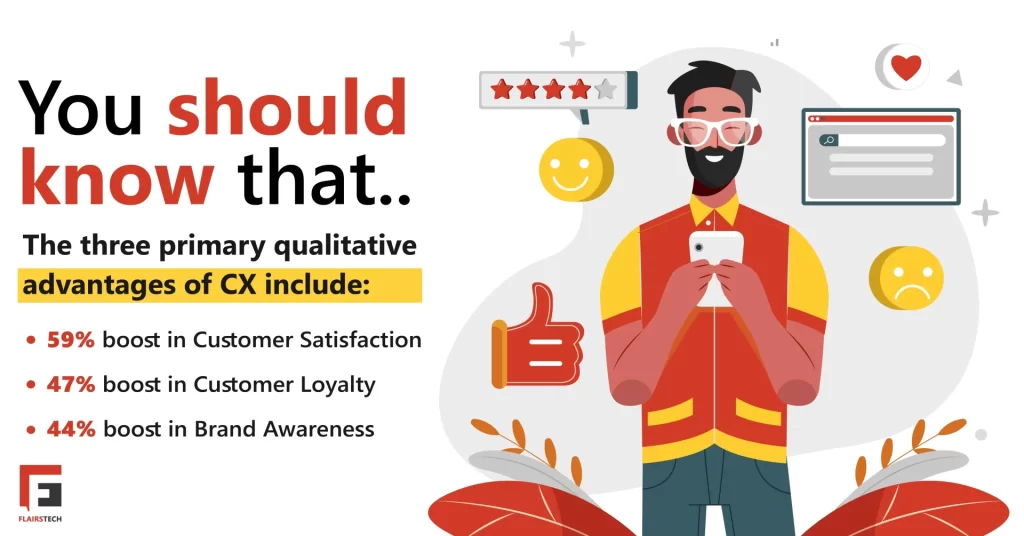 Based on a survey of executives conducted by Forbes, the three primary qualitative advantages of CX include enhancements in the following areas:
59% boost in Customer Satisfaction
47% boost in Customer Loyalty
44% boost in Brand Awareness
Choosing the Right Customer Experience Outsourcing Partner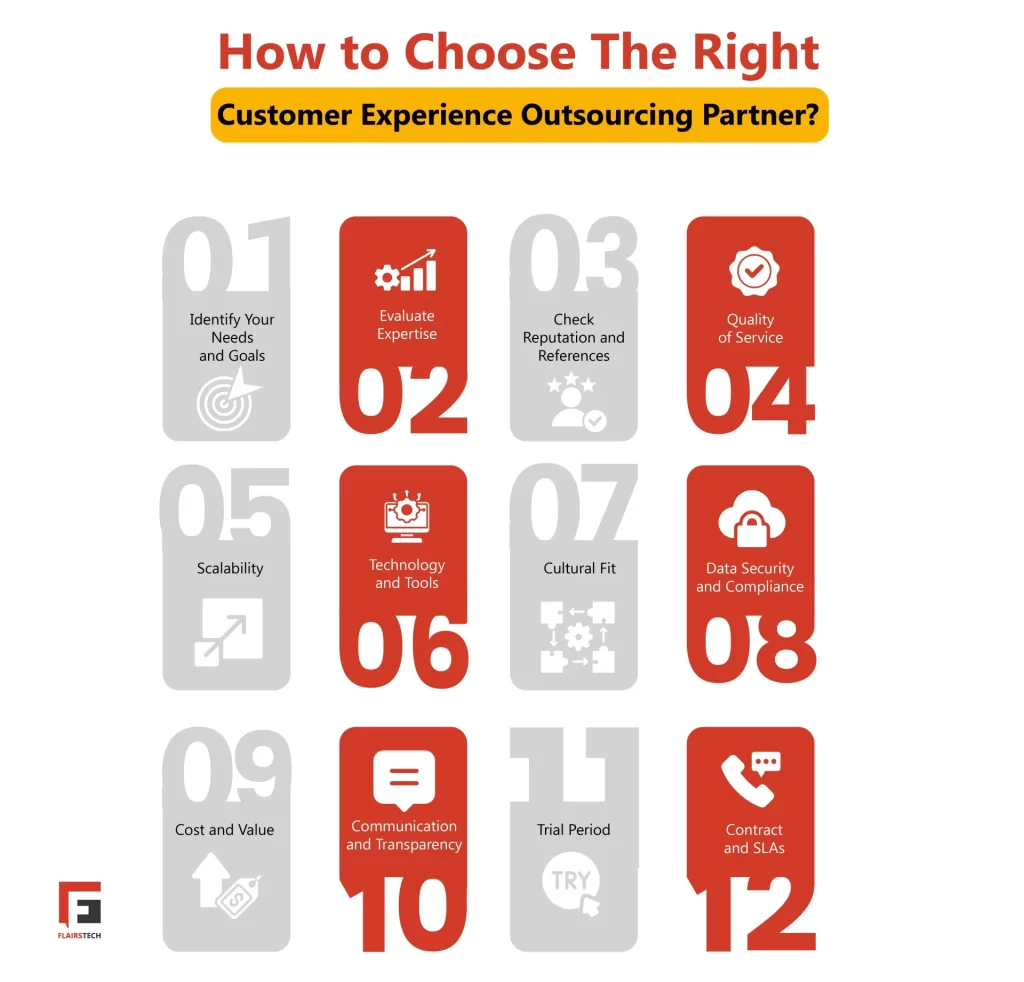 As a business owner, you undoubtedly recognize the pivotal role that customer satisfaction plays in your company's success. Your CX BPO partner becomes the face of your company in customer interactions. Their performance directly influences how customers perceive your brand. A well-chosen partner can consistently deliver exceptional customer experiences, fostering trust and loyalty.
In this context, selecting the right customer experience outsourcing partner is not just a choice; it's a strategic imperative. To help you navigate this crucial decision, we've outlined key steps to consider when choosing a customer experience outsourcing partner for your business. These steps will not only help you meet your customers' ever-increasing expectations but also drive growth and profitability.
Identify Your Needs and Goals:
Start by pinpointing your specific requirements for customer experience outsourcing. Determine which aspects of customer support you need assistance with, whether managing inquiries, providing technical support, or other services. Set clear goals for the outsourcing partner to understand your business objectives.
Evaluate Expertise:
Seek outsourcing providers with expertise in your industry. Look for partners who can understand your products and services, ensuring they can effectively handle queries and issues related to your business.
Check Reputation and References:
Research the reputation of potential outsourcing partners. Look for reviews and testimonials from companies they've worked with. Reach out to references to gain insights into their experience working with the provider.
Quality of Service:
Assess the quality of service offered by the outsourcing company. This includes factors such as response times, resolution rates, and customer satisfaction scores. Request examples of how they've handled complex issues in the past.
Scalability:
Consider the scalability of the outsourcing partner's services. As your company grows, your customer support needs may increase. Ensure the partner can accommodate your growth without compromising quality.
Technology and Tools:
Ensure that the outsourcing partner employs modern communication and support platforms to streamline interactions.
Cultural Fit:
Consider a partner who understands and respects cultural nuances, as this can impact customer interactions and satisfaction.
Data Security and Compliance:
Verify that the outsourcing provider follows strict data protection measures and adheres to relevant regulations, particularly if your industry has specific compliance requirements.
Cost and Value:
While cost is a factor, prioritize value over price. A lower-cost provider might not offer the level of service and expertise needed for your industry.
Communication and Transparency:
Effective communication is key. Choose an outsourcing partner that provides regular updates, reports, and maintains open channels for communication.
Trial Period:
Consider starting with a trial period to assess the outsourcing partner's capabilities and fit for your company. This can help you make an informed long-term decision.
Contract and SLAs:
Carefully review the contract terms and Service Level Agreements (SLAs). Ensure they align with your expectations and requirements.
It's not merely a cost-saving measure; it's a strategic choice that influences your customers' perception, operational efficiency, and the strategic direction of your business. By considering these factors and aligning them with your business goals, you can select a partner that supports your growth and success in this era where customer experience reigns supreme.
Key Considerations in Customer Experience Outsourcing
Successful customer experience outsourcing requires careful attention to various factors. Here are some key considerations to keep in mind:
1. Omnichannel Support:
Customers expect support across various channels, including phone, email, live chat, and social media. Ensure your outsourcing partner can seamlessly handle these channels.
2. Multilingual Support:
If your business caters to a diverse customer base, consider a partner that can provide multilingual support to accommodate different language preferences.
3. Data Security and Privacy Compliance:
Given the sensitive nature of customer information, prioritize a provider that adheres to strict data security and privacy regulations.
4. Performance Metrics and Reporting:
Implement clear metrics to measure the effectiveness of customer support and request regular reports from your outsourcing partner to stay informed about performance trends.
Setting Up Effective Communication Channels
To deliver exceptional customer experiences, and fully utilize the benefits of customer experience outsourcing, businesses must establish seamless communication channels that cater to various customer preferences. Consider the following communication channels for customer support:
1. Voice Support:
Phone support remains a vital channel for many customers. Ensure that your outsourcing partner can handle calls efficiently and with personalized attention.
2. Live Chat:
Live chat is popular among customers who prefer real-time interactions. Implement this channel to provide quick and convenient support.
3. Email Support:
Email is a widely used channel for less time-sensitive inquiries. Make sure your outsourcing partner can manage email support effectively.
4. Social Media Engagement:
Social media platforms have become essential avenues for customer feedback and support. Partner with a provider that can manage social media interactions efficiently and in a brand-aligned manner.
Creating a Seamless Customer Experience Strategy
As customer satisfaction directly correlates with the growth and profitability of your business, a successful customer experience outsourcing strategy must involve more than just handling inquiries. It's about understanding your customers' journeys, personalizing interactions, and leveraging feedback to drive improvement.
With 61% of customers expressing a willingness to pay a premium for the assurance of superior experience, more organizations are turning to outsourcing to streamline their customer support operations. To help you navigate this rapidly evolving field and craft a winning strategy while gaining most of the benefits of customer experience outsourcing, we'll delve into key steps and considerations that encompass both the technical and human elements of outsourcing. This comprehensive approach will not only elevate your customer experience but also drive revenue and foster brand loyalty.
1. Define Clear Objectives and Metrics:
Begin by setting specific objectives for your outsourcing strategy. Determine what you aim to achieve, whether it's improving response times, increasing customer satisfaction scores, or reducing operational costs. Establish key performance indicators (KPIs) to measure progress toward these objectives. Metrics like Net Promoter Score (NPS), Customer Satisfaction (CSAT), and First Contact Resolution (FCR) are commonly used to gauge customer experience success.
2. Understand Your Customer Journey:
Map out your customer journey to identify touchpoints where outsourcing can add value. Recognize the stages where customers interact with your brand and assess which interactions can be effectively managed by an outsourcing partner. For example, routine inquiries or technical support may be prime candidates for outsourcing, allowing your in-house team to focus on revenue-driving tasks.
3. Choose the Right Outsourcing Partner:
Selecting the right outsourcing partner is pivotal. Consider factors such as industry expertise, reputation, scalability, and cultural alignment. According to Deloitte, 72% of organizations that outsource report they receive better value from outsourcing than from in-house operations when cultural fit is present. Conduct thorough due diligence and seek recommendations from industry peers to find a partner that aligns with your goals and values.
4. Implement Robust Technology:
Leverage technology to streamline communication and data management. Implementing Customer Relationship Management (CRM) systems and integrated communication platforms can improve efficiency and provide a holistic view of customer interactions. The State of BPO Customer Service report by HubSpot indicates that 79% of consumers prefer live chat for instant communication with businesses.
5. Focus on Training and Quality Assurance:
Invest in training programs and quality assurance processes to ensure that your outsourcing team embodies your brand's values and delivers consistent service. Regular feedback, coaching, and performance evaluations are essential for maintaining service quality.
6. Maintain Clear Communication Channels:
Establish clear communication channels between your in-house team and the outsourcing partner. Regular meetings, reporting mechanisms, and access to shared knowledge bases can facilitate collaboration and ensure alignment with your brand's voice and standards.
7. Monitor, Analyze, and Iterate:
Continuously monitor KPIs and gather customer feedback to make data-driven improvements. Analyze customer interactions to identify pain points and areas for enhancement. An agile approach allows you to iterate your strategy in response to changing customer needs and market dynamics.
By adhering to these key steps and remaining agile in your approach, you can not only elevate your customer experience but also position your business for long-term success in a highly competitive market.
Moreover, creating a successful customer experience outsourcing strategy demands a comprehensive approach that harmonizes people, processes, and technology. When opting for customer experience outsourcing, a seamless CX strategy ensures that your customers receive consistent service and messaging across all touchpoints, whether they are interacting with your in-house team or the BPO provider. This consistency builds trust and helps maintain a strong brand identity.
Training and Onboarding for Customer Support Teams
Ensuring that your outsourcing partner's support agents are well-trained and aligned with your brand is crucial for delivering consistent and positive customer experiences. Consider the following aspects during training and onboarding:
1. Product and Service Knowledge:
Equip support agents with in-depth knowledge about your products and services to resolve inquiries efficiently.
2. Soft Skills Training:
Communication skills, empathy, and conflict resolution are essential qualities for customer support agents. Provide soft skills training to enhance customer interactions.
3. Brand and Culture Alignment:
Familiarize agents with your company's brand values, mission, and culture to ensure that they represent your business accurately.
Overcoming Challenges in Customer Experience Outsourcing
While the benefits of customer experience outsourcing are numerous, it also comes with challenges. To ensure successful CX BPO, you need to address and take into consideration the following common challenges:
1. Language and Cultural Barriers:
Language differences and cultural nuances can impact communication. Select outsourcing partners with language capabilities and cultural awareness.
2. Time Zone Differences
Coordinate with your outsourcing partner to ensure that support is available during your customers' peak hours.
3. Maintaining Consistency:
Consistency is key to building trust with customers. Implement clear guidelines and monitor interactions to maintain a consistent customer experience.
Measuring Success and ROI
Measuring the success of your customer experience outsourcing efforts is essential for ongoing improvement and demonstrating the return on investment (ROI). Consider the following metrics:
1. Customer Satisfaction (CSAT) Scores:
Gather feedback from customers through CSAT surveys to assess their satisfaction levels after support interactions.
2. Net Promoter Score (NPS):
NPS measures customer loyalty and their willingness to recommend your brand to others.
3. Customer Effort Score (CES):
CES gauges the ease of customers' interactions with support, reflecting their overall experience.
Continuous Improvement and Optimization
Customer experience is an ever-evolving aspect of your business. Embrace continuous improvement and optimization by following these steps:
1. Gathering and Analyzing Customer Feedback:
Analyze customer feedback to identify patterns and areas for improvement.
2. Feedback Loop Implementation:
Use customer feedback to drive changes and improvements in your customer support processes.
3. Staying Updated with Industry Trends:
Stay abreast of industry trends and customer preferences to adapt your customer support strategy accordingly.
Best Practices for Customer Experience Outsourcing
Implement these best practices to deliver outstanding customer experiences through outsourcing:
1. Empathy-Driven Customer Support:
Train support agents to listen to customers empathetically and provide personalized solutions.
2. Proactive Issue Resolution:
Anticipate customer needs and address potential issues before they escalate.
3. Empowering Support Agents:
Empower agents to make decisions and resolve issues without excessive reliance on supervisory approval.
The Future of Customer Experience Outsourcing
The future of customer experience outsourcing is set to witness exciting developments with the integration of emerging technologies and customer-centric approaches. Here are some potential customer experience trends:
1. AI and Automation Integration:
AI-powered chatbots and virtual assistants will play a more significant role in handling routine inquiries, while human agents focus on complex and emotional interactions.
2. Hyper-Personalization:
Technology advancements will enable more sophisticated personalization of customer support interactions, offering tailored solutions to individual needs.
3. Predictive Analytics:
Advanced data analytics will enable businesses to anticipate customer needs and resolve issues proactively, further enhancing the customer experience.
Risks and Mitigation Strategies for Customer Experience Outsourcing
While customer experience outsourcing can yield substantial benefits, it's essential to be aware of potential risks and have mitigation strategies in place:
1. Reputation and Brand Risk:
Choose an outsourcing partner with a proven track record and aligning values to mitigate the risk of negative impacts on your brand.
2. Data Breach and Security Risks:
Prioritize data security and compliance with industry regulations to safeguard customer information.
3. Transition and Knowledge Transfer Risks:
Ensure a smooth transition by conducting thorough knowledge transfer and providing ongoing support during the onboarding process.
Key Statistics:
Conclusion:
Customer experience outsourcing presents a powerful opportunity for businesses to elevate their customer support, increase customer satisfaction, and drive growth. By carefully selecting the right outsourcing partner, implementing effective communication channels, and creating a seamless customer experience strategy, businesses can enjoy the benefits of outsourcing while delivering exceptional customer experiences. Continuous improvement, adherence to best practices, and anticipation of future trends will ensure that customer experience outsourcing remains a valuable strategy in the ever-evolving business landscape. Embrace the insights and guidance provided in this ultimate guide to embark on a successful customer experience outsourcing journey.
How FlairsTech Can Help You Achieve Higher Revenues and Profitability as Well As a Stable Business
Customer Experience (CX) is of paramount importance. While a positive customer experience fosters customer loyalty and drives brand advocacy, ultimately leading to increased sales and revenue, a poor CX can result in customer churn, negative reviews, and damage to a company's image. Today, prioritizing CX is not just a strategic advantage; it's a fundamental necessity for sustainable business growth and long-term success. Here's how we, at FlairsTech, can help you address and resolve all your customers' issues, and deliver a top-notch customer experience.
We have over 1,000 available talents delivering top-notch results from three continents (North America, Europe, and Africa) covering every language and time zone on the planet.    
Over 100 global enterprise clients rely on our digital solutions on a day-to-day basis.   
Our size, however, does not affect our agile processes, as we have fast and exceptionally efficient processes when it comes to hiring and time-to-market.   
We guarantee the products we deliver for life.   
We will cut your development budget in half, increase your overall output, and achieve the desired results.    
At Flairstech, our customer experience managers make sure your customers have a smooth onboarding and help them get up to speed quickly with your products/ services. We maintain a solid and happy partnership with your customers to ensure higher renewal rates by regularly following up with them and providing quarterly business reviews. Start by analyzing your project objectives and scope, and if you need any help, you can always book a free consultation with one of our experts to discuss your goals and challenges and explore possible approaches.   
Frequently Asked Questions (FAQs):
What is Customer Experience Outsourcing?
Customer experience outsourcing involves delegating customer support and related functions to third-party service providers.
Why Outsource Customer Experience?
Outsourcing can reduce costs, enhance scalability, access specialized expertise, and allow you to focus on core business activities.
What Services Can Be Outsourced in Customer Experience?
Customer support, technical support, helpdesk services, chat support, and more can be outsourced.
How Do I Choose the Right Customer Experience Outsourcing Partner?
Consider factors like industry experience, reputation, technology, scalability, and compliance with your requirements.
What Are the Key Challenges in Customer Experience Outsourcing?
Challenges include maintaining quality, communication, data security, and cultural alignment.
Nearshore vs. Offshore vs. Onshore: Which Outsourcing Model Is Right for Me?
Nearshore offers proximity, offshore provides cost savings, and onshore aligns with cultural and regulatory needs.
What Should I Look for in Service Level Agreements (SLAs) with Outsourcing Partners?
SLAs should define performance metrics, response times, dispute resolution, and penalties for non-compliance.
How Can I Ensure Data Security in Customer Experience Outsourcing?
Implement robust data protection measures, encryption, and compliance with data privacy regulations.
What Role Does Technology Play in Customer Experience Outsourcing?
Technology facilitates efficient communication, data management, analytics, and automation for enhanced customer service.
What Are the Emerging Trends in Customer Experience Outsourcing?
Trends include AI-driven chatbots, omnichannel support, personalization, and data-driven insights.
Can Outsourced Customer Support Maintain Brand Consistency?
Yes, through comprehensive training, clear guidelines, and close collaboration with the outsourcing partner.
How Does Customer Experience Outsourcing Impact Customer Satisfaction?
It can positively impact satisfaction by providing timely, effective, and consistent support.
What Is the Cost of Customer Experience Outsourcing?
Costs vary based on factors like location, services, and the level of support required.
How Do I Measure the ROI of Customer Experience Outsourcing?
Measure ROI using KPIs such as customer satisfaction, cost per interaction, and revenue growth.
Can Small Businesses Benefit from Customer Experience Outsourcing?
Yes, small businesses can benefit by gaining access to cost-effective and scalable customer support solutions.