The success behind any existing product or service lies secured within the long-entangled DNA-like structures of the software code that represents it. In 2023 alone, global expenditures on project outsourcing are projected to surpass the 731 Billion Dollar mark, with IT outsourcing eating up around a 72% share of that number. Mind-boggling, isn't it?
Present-day threats of a global recession have led us to question the core fundamentals of how tech economies operate on every single level. As a result, the software development ecosystem and the processes of outsourcing talent for designated services have been in more demand than ever, and for a good reason too. With layoffs and budget cuts roaming around every corner of the tech industry, it comes as no surprise that 92% of the G2000 are already outsourcing their IT and software efforts. So, without further ado, in this article, we will thoroughly discuss the difference between two of the most significant dedicated IT outsourcing models: Resource-level and Process-level outsourcing.
What is Resource-level Outsourcing?
Resource-level Outsourcing is when you opt to outsource specific segments of the development cycle or utilize the staff-augmentation model to patch any cracks or gaps within your already functioning cycle.
This model works best when your in-house development team needs help to keep up with the required quality or workload. Additionally, you can either be in complete control of the allocation and management of these utilized employees, or they can remain on the service provider's side of the deal, reporting to their own Software Development Manager, who eventually reports back to you.
Pros of Resource-Level Outsourcing:
Easily Scalable: This model grants you unparalleled control when scaling your teams up or down, depending on your requirements at the given period.
Hiring Speed and Flexibility: Getting the exact number of full-time employees (FTEs) your project requires in a relatively short period of time.
Sustainability: The resource-level outsourcing model provides the best long-term and short-term results.
Cost Effectiveness: Given the model's advantages, resource-level outsourcing models are more cost-efficient than full process-level ones.
Cons of Resource-Level Outsourcing:
Alignment Gaps: Communication gaps may occur due to the vendor's lack of familiarity with your organization.
Resource Management: Having to deal with managing the onboarding process, development-cycle planning, and sometimes even one-on-one training can be time-consuming and hectic. However, at Flairstech, we take care of about 80% of that process on your behalf.
Hidden Costs: Unexpected expenses may arise due to decision changes, ineffective processes, lack of visibility, etc…
Language Barriers: Outsourcing developers who are not native speakers of your mother tongue may be difficult, and confusion about the deliverables may occur.
Time zone Differences: Some vendors may not be in the same hemisphere as you are, and time zone variations can be a nuisance to work with in alignment with the rest of your team.
What is Process-Level Outsourcing?
Process-Level Outsourcing is when the provider's team or teams take on your entire software development cycle and manage it from top to bottom. This model works best when you either don't acquire a software development team at all or if your team is relatively limited or new in terms of the coding knowledge required to finalize a project. Consequently, it would be best to utilize this outsourcing model to enable your provider to draft some top-of-the-league MVPs.
Pros of Process-Level Outsourcing:
Minimal Managerial Efforts: The exact percentage and responsibilities will vary from one service provider to another. However, we at FlairsTech, take over the hassle of resource management entirely when assigned full-process Outsourcing.
MVP Access: You get the creme de la creme of your vendor's resources which often offers you bleeding-edge technologies and other tech treasures only available at the source itself (better be at the workshop rather than in your garage kind of philosophy).
Higher Quality Deliverables: guaranteed by agreed-upon pre-production timelines and milestones, compared to resource-level outsourcing models
Zero Hidden Costs: Since the deliverables will already be agreed upon and management will not be on your plate to worry about, any additional costs or delays will have to be borne by the vendor and not yourself.
Time is on Your Side: Think about how much of a time and cost-consuming hassle coding ecosystems are. And now, think about all the upscaling, expanding, and strategizing you can more clearly focus on to grow your business.
Bridging Cultural Gaps: One of the main barriers or blockers that affect outsourcing models is the cultural differences between service providers and clients. However, using this model, you'll only be exposed to team leaders that are trained and accustomed to communicating at a very high level, thereby bridging any gaps between yourself and the team, leading to a far more stable and consistent relationship.
Cons of Process-Level Outsourcing:
Less Control: You will have to accept that with this model, your micro managerial efforts will practically be nonexistent as you will have less control over your software development cycle with the vendor handling it end-to-end.
Slower setup: This model might take some time to set up and draft all the expectations and deliverables realistically, resulting in a more prolonged pre-production phase.
Time zone Differences: Some vendors may not be in the same hemisphere as you are, and time zone variations can be a nuisance to work with in alignment with the rest of your team.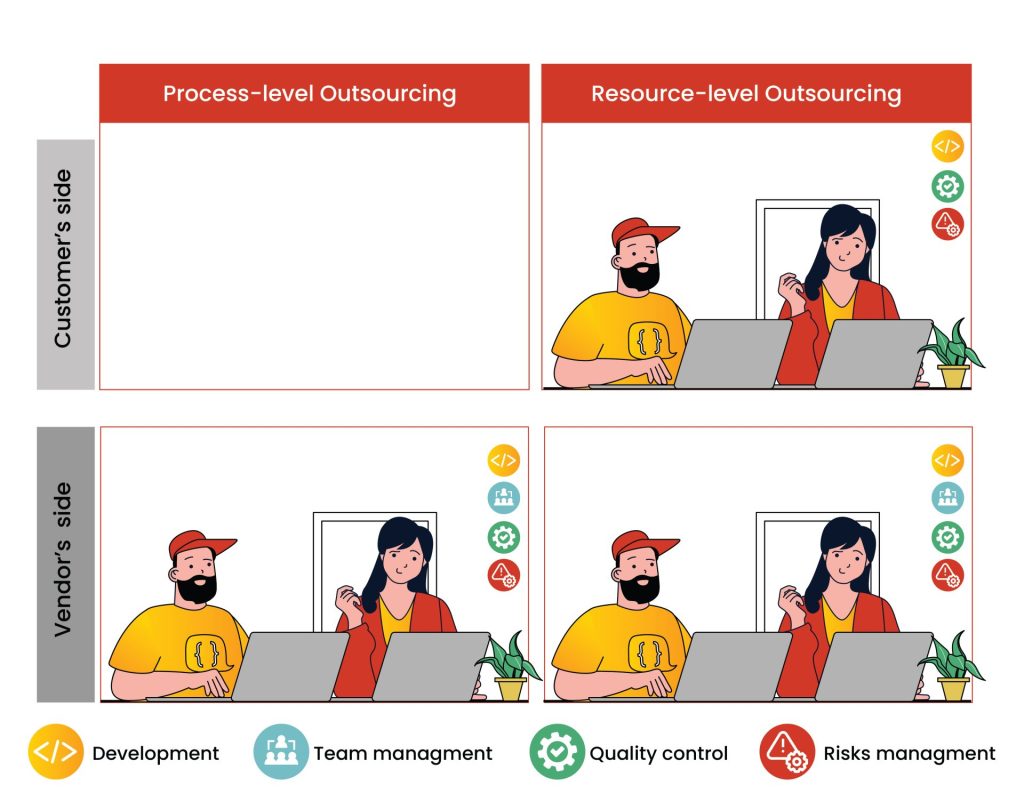 How Flairstech Can Help!
We truly understand how hectic and agitating the process of choosing between vendors may be due to the cost and magnitude of the investment. With that being said, regardless of which model IT outsourcing model you're going to opt for, we would like to reassure you that with Flairstech, you are in the safest of hands because of the following:
We have over 1,200 available talents delivering top-notch results from three continents (North America, Europe, and Africa) covering every language and time zone on the planet.
Over 2,500 global organizations rely on our digital solutions on a day-to-day basis.
Our size, however, does not affect our agile processes, as we have fast and exceptionally efficient processes when it comes to hiring and time-to-market.
We guarantee the products we deliver for life.
We will cut your development budgets in half, increase your overall output, and over-achieve the desired results.
Nevertheless, at Flairstech, we came up with the ideal process to enable companies wishing to either outsource their software needs on a resource level or a process level. A process that takes them around the vast majority of the cons listed in the article above. Moreover, if you need any assistance deciding on a digital solution that will elevate your business or have any questions regarding the development ecosystem in general, schedule a free one-on-one consultation now, and one of our engineering managers will gladly assist you in no time.