Nearshore staff augmentation has become increasingly popular for businesses solution looking to hire IT staff augmentation talents. By leveraging skilled professionals from neighboring countries, businesses can reduce costs and improve productivity. And According to a report by Globalization Partners, businesses can save up to 60% on labor costs by hiring nearshore staff. However, implementing a nearshore staff augmentation strategy can be challenging. In this blog post, we will share some expert tips for a successful nearshore staff augmentation implementation.
What is Nearshore Staff Augmentation and Why Are Businesses Gravitating Towards It?
For those looking to scale up their development teams without breaking the bank, nearshore staff augmentation might be just the solution required! This outsourcing model allows you to access top software development talent from nearby or neighboring countries that often share similar time zones, cultural affinity, and the same language. Additionally, this model enables you to seamlessly integrate the acquired or needed talent right into your in-house team without going through regular staffing protocols and at a fraction of the price.
The Benefits of Nearshore Staff Augmentation
Before diving into the tips and tricks of how to properly and sustainably utilize this model, let's first review the benefits of nearshore staff augmentation. Here are a few reasons why nearshore staff augmentation can be a smart move for your business: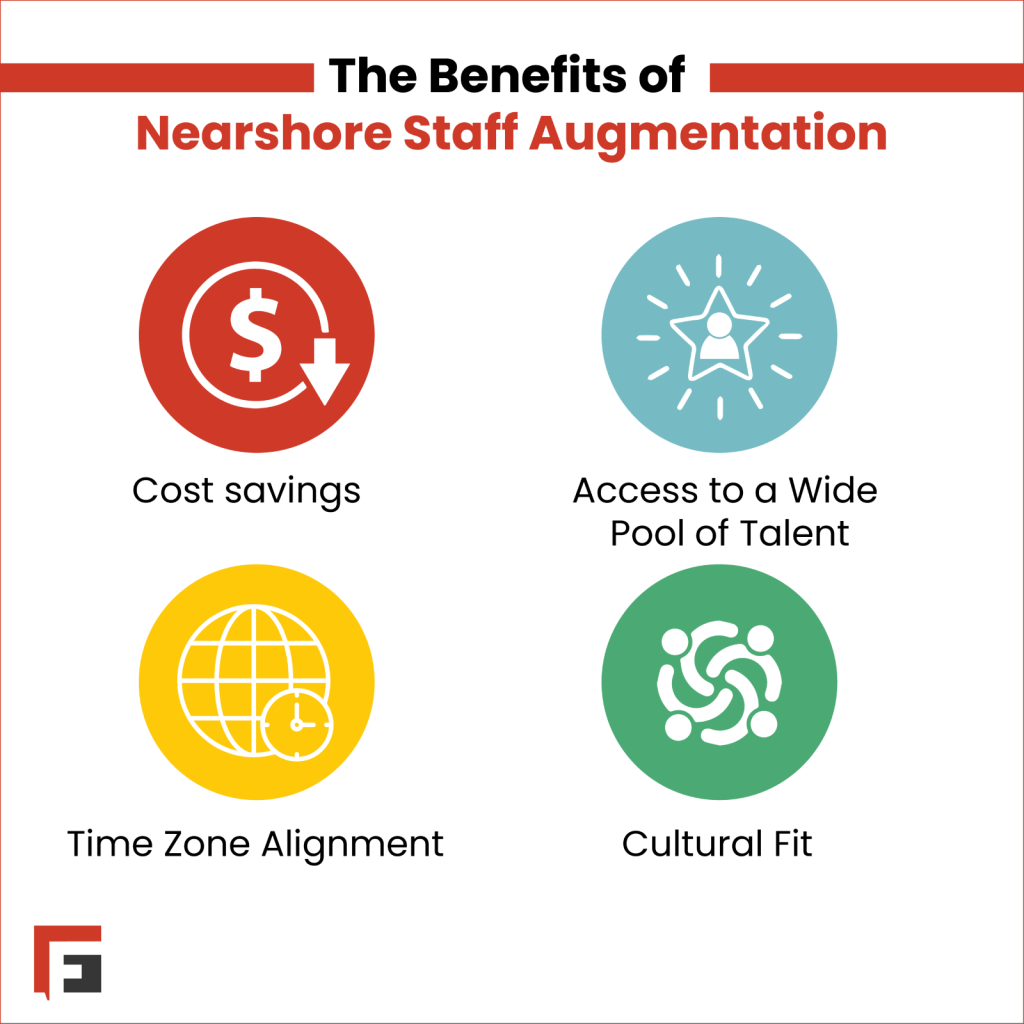 Cost savings: Hiring nearshore talent is often less expensive than hiring locally; as mentioned above, you can save well over 50% of your IT staff augmentation budget and get more than what you were accustomed to receiving in terms of software services.
Access to a Wide Pool of Talent: You can find IT professionals with specialized skills that may be hard and expensive to find locally. This is particularly important for businesses with niche or complex projects that require specific technical expertise.
Time Zone Alignment: Nearshore staff can be in the same or similar time zones, which can improve communication and enhance the overall outcome of the collaboration. Thus, leading to faster project delivery and better overall team performance.
Cultural Fit: In some cases, neighboring countries often share similar cultural values and codes of ethics. Sharing the same cultural backgrounds can foster a better work environment and increase overall team morale, which eventually leads to accelerating productivity rates due to synchronized team chemistry.
Now that we've covered the benefits let's dive straight into the tips.
7 Expert Tips for Successful Nearshore Staff Augmentation Implementation
1. Choose the Right Partner
Choosing the right partner is essential for a successful nearshore software staff augmentation implementation. Look for a software partner with a proven track record of success, and ensure they understand your business needs and goals. The right partner will help you find the right talent and manage the entire process from start to finish. 
2. Define your Goals and Objectives
Before you embark on your nearshore staff augmentation journey, you must define your goals and objectives. Ask yourself what you want to achieve with this strategy. Is it to reduce costs, enhance productivity, or access a specific skill set? Once you have a clear understanding of your goals and objectives, you can design a plan that aligns with them.
3. Establish Clear Expectations
Establishing clear expectations is essential for a successful nearshore staff augmentation implementation. Ensure everyone involved understands the project's goals, the timeline, and the deliverables. Be clear about what you expect from your nearshore team, and make sure they have the resources they need to succeed. According to a report by Gartner, setting clear expectations and goals is one of the key factors for successful outsourcing.
4. Focus on Communication
Communication is key when it comes to nearshore staff augmentation. A Harvard Business Review survey found that companies prioritizing communication with their nearshore team are more likely to achieve project success. Ensure you have a clear communication plan in place and that everyone involved in the process understands their roles and responsibilities. Use tools like video conferencing, instant messaging, and checkpoints to stay in touch with your nearshore team.
5. Embrace Cultural Differences
Yes, we did add cultural fit as a pro in the section above, but that is far from the whole story. Cultural differences can be challenging when working with a nearshore team but they can also be an opportunity. Embrace the differences and use them to your advantage. Take the time to learn about the culture of your nearshore team, and be open to new ideas and perspectives. A study by McKinsey & Company suggests that diverse teams are more innovative and better equipped to solve complex problems. By taking the time to learn about the culture of the nearshore team and being open to new ideas and perspectives, businesses can create a diverse, inclusive, and accepting ecosystem where everyone thrives and benefits.
6. Provide Adequate Training and Invest in Support
Your nearshore team members may have different working styles and cultures than your in-house team. Therefore, providing adequate training and support is essential to ensure everyone is aligned and working towards the same goals. Invest in online training tools, mentorship programs, and team-building exercises to create a cohesive team that works well together.
7. Monitor Progress and Adjust as Necessary
Monitoring progress is crucial to the success of your nearshore staff augmentation project as it guarantees that you are on the right track. First, establish metrics that you can use to measure progress, such as project milestones, task completion rates, and customer satisfaction scores. Then, regularly review your progress and adjust your plan as necessary to ensure that you achieve your goals.
How Flairstech Can Help with Your Near Shore Staff Augmentation Process! 
Nearshore staff augmentation can be a smart move for businesses looking to save money and access specialized IT talent. However, implementing a nearshore staff augmentation strategy requires careful planning and execution. Following these expert tips can increase your chances of a successful nearshore staff augmentation implementation. Moreover, Flairstech is situated across three different continents, thus ensuring that no matter where you are based, we have an office near your shore. And here is why leveraging Flairstech's vast resources will help you attain unparalleled results:
We have over 1,200 available talents delivering top-notch results from three continents (North America, Europe, and Africa) covering every language and time zone on the planet.
Over 2,500 global organizations rely on our digital solutions on a day-to-day basis.
Our size, however, does not affect our agile processes, as we have fast and exceptionally efficient processes when it comes to hiring and time-to-market.
We guarantee the products we deliver for life.
We will cut your development budgets in half, increase your overall output, and over-achieve the desired results.
Nevertheless, at Flairstech, we came up with the ideal agile process to enable companies wishing to outsource either part of or their entire full cycle software development services life cycle. Moreover, if you need any assistance deciding on a digital solution that will elevate your business or have any questions regarding the development ecosystem in general, schedule a free one-on-one consultation now, and one of our engineering managers will gladly assist you. 
FAQ'S
1. How Is Nearshore Software Development Different from Offshore Software Development?
Nearshore software development is different from offshore software development in terms of geographical proximity, time zone, cultural affinity, and language. Nearshore companies are usually located in neighboring or nearby countries, while offshore companies are usually located in distant countries with different time zones and cultural backgrounds. 
2. What Are Some of the Countries Known for Nearshore Software Development?
Some of the countries known for nearshore software development services include Mexico, Canada, Egypt, India, Poland, Costa Rica, Brazil, and Argentina.
3. What Are the Challenges of Nearshore Software Development?
The challenges of nearshore software development include language and cultural barriers, time zone differences, lack of face-to-face communication, and differences in work ethics and business practices.
4. How Can Companies Overcome the Challenges of Nearshore Software Development?
Companies can overcome the challenges of nearshore software development by investing in communication and collaboration tools, establishing clear communication protocols, hiring local project managers, conducting regular site visits, and investing in cultural training.